Announcing Reverse Board Search…
11.11.15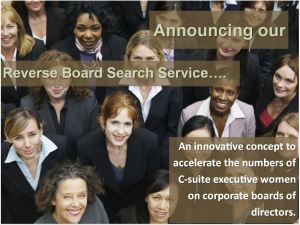 "Reverse Board Search," an innovative concept to accelerate the numbers of C-suite executive women on corporate boards of directors.
For our new Reverse Board Search service, Berkhemer Clayton is retained by companies where C-suite women executives currently work to proactively place them on outside corporate boards while they continue in their executive management roles.
We launched this innovative new service for companies that want to enhance the governance experience of their own women executives, using outside board service as a leadership development strategy to expand their business networks and knowledge of best practices.
For Reverse Board Searches, we are retained by the company where the C-suite woman executive is employed. We develop her "board-ready" profile, analyze potential companies where she might be a good fit on the board and leverage contacts to introduce her to directors already serving on those boards, including the nominating committee chairs. For women executives who have not yet had board experience, we also place them on large nonprofit boards of directors, as a first step toward corporate boards.
Author of the book "The Board Game–How Smart Women Become Corporate Directors," Betsy Berkhemer-Credaire leads this specialty practice for Reverse Board Searches as well as standard director searches. She has been a frequent keynote speaker and panelist throughout the country about the business case for women on boards, most recently at the National Association of Corporate Directors in Washington, D.C., and the Society of Corporate Secretaries in Chicago.
The California State Legislature in September 2013 passed a Resolution urging all public companies to have at least three women directors on their boards by December of 2016. Illinois and Massachusetts State Legislatures passed the same resolutions in recent weeks. California's statistics have shown an increase of 1% of board seats held by women in 2014 (from 11% to 12%) among the state's 400 largest corporations. But there's a long way to go–more than 100 of California's largest corporations still have no women directors on their boards.
"I am confident that our Reverse Board Search concept will enable more women to serve on corporate boards more quickly, and in greater numbers. In effect, we are introducing C-suite women to members of public company boards who may already have heard of them, and we present a compelling case for their experience and capabilities. Board openings are held very closely by corporations, and not generally known outside the boardroom. We work through our contacts to understand board succession planning for a wide array of corporations, and make sure our Reverse Board Search candidates are positioned for consideration as candidates."
The latest 2015 statistics of women on boards will be released by UC Davis Graduate School of Management on November 19, 2015, at the 2020 Women on Boards luncheon co-chaired by Betsy with Renee Fraser, at the LA Hotel, downtown Los Angeles.
For more information about Reverse Board Search, contact Betsy directly at betsy@berkhemerclayton.com.