2016 Year End Recap
12.05.16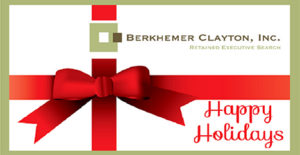 To close out 2016 and kick-start 2017, Berkhemer Clayton would like to thank you, our clients and friends, for being essential to our business success now for 23 years. Our retained executive search firm has the test of time. We have survived and thrived through major recessions and significant disruptions in the retained search industry. We send our gratitude this holiday season…
In this issue:
Congratulations To Our Client Organizations and Latest Placed Candidates
2016 Year End Recap
Thank You, Debbie Reed – 2020 Women on Boards
Coming Up Roses – Berkhemer Clayton Recruits Executive Director of Pasadena Tournament of Roses Association
Betsy Berkhemer-Credaire Honored for "Empowering Leadership" by Southern California Leadership Network
Vice-President Ben Lambert Graduates from SCLN Leadership Los Angeles Program
Betsy Berkhemer-Credaire is Keynote Speaker at the DirectWomen Conference in New York
To read the entire 2016 Berkhemer – Clayton, Inc. Newsletter – No. 3, click here.